The Deep Rot of the Massachusetts Democratic Party
Massachusetts's road to failure runs straight through the digital waiting room of the Democratic State Committee's video calls. During long, slur- and expletive-filled gatherings, a vanguard of wizened Harvard alumni and outer-ring suburbanites screech over one another in a dread contest for Zoom-mic supremacy, hurling insults at the young, progressive, and racially diverse members bold…
Massachusetts's road to failure runs straight through the digital waiting room of the Democratic State Committee's video calls. During long, slur– and expletive-filled gatherings, a vanguard of wizened Harvard alumni and outer-ring suburbanites screech over one another in a dread contest for Zoom-mic supremacy, hurling insults at the young, progressive, and racially diverse members bold enough to question the most basic tenets of their long-held rule. In a particularly unpleasant meeting last month, state committee apparatchiks moved to end the inquiry into the state party's role in destroying Alex Morse, the young gay mayor from Holyoke who went up against the powerful chair of the House Ways and Means Committee, Ritchie Neal, only to have his reputation and career pummeled by a homophobic smear campaign ginned up by young politicos in search of an internship.
The disturbing behavior of the state Democratic Party's varied membership may come as a surprise to political spectators whose bird's eye view of Massachusetts leaves the mistaken impression that it's studded with progressive firebrands like Senators Ed Markey and Elizabeth Warren and Congresswoman Ayanna Pressley. But at the Democratic State Committee's end-of-January meeting, Markey made a special appearance to laud committee Chair Gus Bickford for his stewardship of the party and of the state. This was a shocking cameo: It was none other than Bickford who fanned the flames of the Morse smear campaign, who has had a hand in enabling Republican Governor Charlie Baker's two-term tenure, and who cultivated a roster of conservative DSC members so horrified by Morse's unprecedented threat to the sleepy status quo, and their power within it, that they leapt to protect his saboteurs.
Prior to the Morse scandal, the DSC was more content to simply ignore progressives than actively sabotage them. The organization's membership is much closer in skill and temperament to an army of Rudy Giulianis than it is to a cabal of conniving Boss Tweeds. Markey's laudatory remarks merely demonstrated the extent to which the state's most committed progressives are compelled to do business with the cracked and anachronistic moderates who line the statehouse, governor's mansion, and the top floor of The Boston Globe. Taken together, this is no party machine: It is a hopelessly atomized collection of actors, scrambling to maintain their political careers at the cost of a cohesive political vision.
As a result of this mayhem, Massachusetts ranks thirty-first in affordable housing and forty-seventh for income inequality in the nation. As of 2017, the average net worth of a Black family in Greater Boston was $8, and in cities to the north and south, between one in four and one in six residents live in poverty. The towns of Lynn, Lawrence, New Bedford, and Fall River rarely make the news, but when they do, it's usually because their residents are struggling to make ends meet. Springfield, once a major manufacturing hub of firearms, textiles, and paper, now boasts the highest rate of asthma in the country, and in Boston's Chinatown, the air quality is the worst in the state. (An instance of environmental racism rendered even more staggering by a recent report showing nearly 20 percent of deaths worldwide are attributed to air pollution.)
---
Failures on the part of Democrats to address the fallout from a half-century of deindustrialization and its outsize effects on Black, immigrant, and working-class citizens have only been exacerbated by Baker's unflinching willingness to sacrifice human lives for the sake of Boston's business-owner class during the Covid-19 pandemic, opening up restaurants and pushing for fewer restrictions even as the state's food insecurity rises faster than any other's. In carefully worded statements, state Representative Mike Connolly and other similarly cautious legislators have detailed the ways in which Baker's belief in private enterprise as a universal panacea has positioned Massachusetts next to last for overall vaccine distribution:
If Massachusetts was its own country, we would have the worst per capita COVID death rate in the world—and unfortunately, that fact remains true as of this writing (with 212 deaths per 100,000 residents, according to recent figures tabulated by Johns Hopkins University). To put these numbers in context, the overall death rate in the United States is about 135 per 100,000.… According to figures posted Thursday evening by The New York Times, Massachusetts has so far only been able to administer about 53% of the vaccines that we have received from the federal government. This places us 48th in the nation in terms of overall vaccine distribution. Only the states of Alabama and Mississippi have been less efficient than us.
But the blame for Massachusetts's cascading failures doesn't fall on the individual sensibilities of Baker or Massachusetts's progressive senators. After all, neither Markey nor Warren have been able to propel themselves out of the stupefying quagmire of the state's politics on their own. Markey's 2020 revival was almost entirely dependent on the bonds he forged in recent years with the Sunrise Movement. Warren would still likely be a Harvard professor had Harry Reid not tapped her to play an oversight role in Washington as millions of Americans coalesced in outrage over the 2008 financial crash. Neither has successfully built a coalition capable of challenging their state's inert political institutions.
Jonathan Cohn, an organizer with Progressive Mass and dedicated chronicler of the state party, tells The New Republic that in order to understand why it's so difficult for progressives to build power in the Bay State, one must first come to grips with Massachusetts's underlying political ideology. "People think Massachusetts isn't a terrain of conflict or struggle because they conceptualize conflict only through nationalized fights of Democrats versus Republicans, and we don't have those kinds of fights because we have a nonexistent Republican Party and plenty of Democrats in our legislative supermajority whose voting records align with moderate Republicans," he says.
This lack of polarization creates a political feedback loop in which progressives seeking to challenge and confront the stale hegemony of moderate rule find themselves without any real state-based mass movement to back their efforts. The resulting dismal success rate has sapped the motivations of progressive political aspirants. It's no wonder that the most vital project to which Massachusetts's youngest progressives pledged themselves was the cynical smearing of Morse's character. Out-of-state reinforcements are in short supply as well. "You don't have big donors or outside progressive groups mobilizing electorally here, because everyone's under the impression that we're all just living happily in this liberal utopia," Cohn says.
"Then you also have Charlie Baker, who nobody is willing to attack outright," he says. "Whether for his vetoes, or for his regressive stance on basic social welfare policies, everybody in the state is terrified of his approval rating, and so it keeps growing even as he continues to attack progressive policies and voices."
In 2020, Baker held the highest approval rating of any governor in the country, following in the footsteps of other Republican governors like Mitt Romney who leveraged Boston's corporate lobbies and the absence of a competent Democratic Party to maintain his lock on power. In the Senate primary last year, neither Markey nor Kennedy was willing to say that they would support a Democratic challenger to Baker; major progressive groups like Planned Parenthood and the Environmental League of Massachusetts have similarly refused to endorse a Democratic challenger out of fear of reprisal. After losing his 2010 election with a Tea Party–style campaign, Baker rebranded with a persona more closely aligned with the charter school bourgeoisie. Swapping political wardrobes secured his favor with Boston's fiscally conservative Brahmin class in 2014; they reaffirmed their fealty in 2018.
"If you are a wealthy, educated, socially liberal person, you align with the Democratic Party in most places, but Baker is a great asset for your fiscal conservatism," Cohn says. "This is the kind of person that really defines the voice of The Boston Globe editorial board: They represent the mindset of white, upper-middle-class, inner-ring suburbia—socially liberal but into the idea that a friendly Republican governor is a check on a runaway Democratic legislative branch."
---
As Lily Geismer argues in Don't Blame Us: Suburban Liberals and the Transformation of the Democratic Party, there is a strong argument to be made that Boston and its suburbs provided the ideal spatial and economic conditions to serve as the scaffolding for the national party's most conservative leanings. In the highly segregated suburbs connected by the postwar construction of Route 128, academics and high-tech defense industry workers were fused into an upper-middle-class bloc by a military-industrial complex rapidly expanding outward from MIT's labs and legitimized by the kind of liberal, if jingoistic, social scene swirling around Harvard Square cocktail parties.
These professionals endorsed socially liberal policies like busing and fair housing but only insofar as they didn't integrate Blacks into their own suburbs. Once proposals for various kinds of integration started to creep out of Boston proper and into the 128 corridor, they were met with intense hostility. (It's worth remembering that Massachusetts may have been the first state to abolish slavery outright, but it was also the first colony to legalize it.) The suburban liberals supported pro-business tax cuts as long they aligned with high-tech white-collar job creation, leaving the deindustrializing central and coastal towns to wither. The only state to go for McGovern in 1972 and Reagan in both 1980 and '84, Massachusetts finally found a presidential candidate in its own likeness with Michael Dukakis, who, in an ironic turn, climbed into a tank and lost to Bush handily in a 1988 landslide.
Today, the suburban political outlook forged in Brookline, Newton, Concord, and Lexington is also the mentality that tolerates a statehouse controlled by a Democratic supermajority in theory but by the troika of governor, statehouse speaker, and state senate president in reality. The centralization of power in the weekly meeting between the three Boston bosses is enabled by rules and procedures that make the Massachusetts state legislature one of the least transparent in the country. (In 2015, the Center for Public Integrity gave Massachusetts an F for access to public information, a D for legislative accountability, and a D- for executive accountability.) This provides cover for Clinton-era "progressives" and Blue Dog hard-liners alike to pander to their respective bases without any real accountability for highly secretive votes.
Calla Walsh, an organizer with the progressive advocacy organization Act On Mass, has been organizing to expand transparency in the Massachusetts statehouse. She tells The New Republic that if progressives want to see change in the state, first they have to pull back the shades shielding Beacon Hill from public scrutiny. "Right now, committee votes are for the most part secret. That means that bills will sit in committee for years or get sent to study, where they die," Walsh says. "That's why we're lobbying to have a 72-hour period before any bill is voted on where they are made available to the public, lowering the threshold needed for a recorded roll call vote, and making committee votes public."
At the end of last year, the statehouse waited for the final days of the session to vote on a slate of high-profile bills. The late arrival of a police reform bill, weighing in at over 100 pages, gave members cover to vote against it under the pretense of not having time to read it in full. Now, hot on the heels of his veto of the Roe Act—which would have immediately expanded access to reproductive health care in the state—Baker has vetoed a sweeping climate bill for the second time, returning it to the legislature with a suite of kneecapping amendments. In a gesture mirroring his Janus-faced stance on the climate emergency, Baker signed the rejection on recycled paper.
Even when members of the legislature try to break the consensus forged by Baker and Democratic leadership, the speaker's cudgel is used to punish dissent and rein in progressives who step out of line.
Multiple state representatives have spoken publicly about former speaker Robert DeLeo (who resigned last year) stripping members of their committee chairs for challenging his conservative agenda in the statehouse. While DeLeo managed to break the streak of the three preceding House speakers who left office under indictment, his chosen successor, Ronald Mariano, lined up the votes for his own speakership years before DeLeo's resignation, winning the election handily along party lines almost immediately after DeLeo's departure in a not-so subtle hat tip to the seat's storied legacy of corruption.
In 2016, Massachusetts's statehouse primaries were ranked last in the country for competitiveness. There's little to no incentive for incumbents to challenge the speaker and fight for progressive policies. If they do, they are stripped of their committee chairs and the healthy stipend that comes with the job. The failure to advance progressive ideas comes with no consequences, as there are few viable progressive challengers moving through the pipeline of the atrophied state party. While a handful of representatives and state senators affiliated with progressive groups have pushed for drug legalization, subsidized housing, police reform, racial justice legislation, climate action, and eviction relief, they represent a sparse minority in a crowded field of Democrats who are content to ax bills in secret committee votes or send them to the purgatory of legislative study.
---
The lack of a vital progressive wing in Massachusetts's state politics has had national implications. In addition to Ritchie Neal maintaining his chairmanship of the House Ways and Means Committee—where he has continued to wage war against Medicare for All, an end to surprise billing, and tax filing reform—other House districts have either become safe havens for tepid moderates or have been seized by young conservatives, taking advantage of the absence of a progressive bench.
Congressman Stephen Lynch, known for his anti-abortion and pro-charter school stance, has represented the Southie-anchored 8th Congressional District for two decades. Before arriving in Washington, Lynch was arrested for drunkenly attacking a group of Iranian students protesting U.S. intervention abroad, and went on to provide pro-bono legal counsel to a gang of white teenagers accused of violence and harassment of an interracial couple. Later, in 1996, Lynch would introduce a "gay panic" amendment to lower the penalties for homophobic hate crimes. The most notable piece of legislation forwarded by Congressman Bill Keating, a New Dem caucus member and 10-year incumbent representing Cape Cod, is H.R. 1814, extending the Affordable Care Act's individual mandate exemption to Christian Scientists.
In the 4th District, a young Jake Auchincloss—with the help of his mother's expansive donor network, forged through her role as head of the Dana-Farber Cancer Institute and her cozy relationship to The Boston Globe—won Congressman Joe Kennedy's former seat. Prior to his electoral victory, Auchincloss worked for Baker; he is viewed by progressives in the state as little better than a Republican in Democrat's clothing. Recent additions to the state delegation, such as Seth Moulton and Lori Trahan, offer policies similar to their moderate Democratic colleagues in competitive Southern and Midwestern districts, albeit polished with a progressive sheen to reflect Massachusetts's bleeding heart facade.
As Ezra Klein observed in relation to California last week, "progressive" states are often fraught with contradictions between the superficial image promulgated by the national media and the economic and social realities on the ground. The lack of attention afforded to these contradictions allows for the further erosion of progressive institutions in the very states that claim to be their champions. With Republican state legislatures in states like Arizona and Texas weaponizing Trump's legacy to pass increasingly right-wing—and increasingly craven—policies, Massachusetts has failed to offer a rejoinder. No one seems to notice that despite being plastered with "RESIST" yard signs, the state is devoid of inspiration when it comes to developing a policy response to the rise of the far right.
During his second term as a state representative, Ed Markey fought for legislation to end part-time district court judgeships in Massachusetts and, by extension, the cycle of corruption whereby judges curried favor with the politicians who appointed them through the private practices they were allowed to maintain. In an episode that could easily have played out today given the perpetuation of concentrated power in the hands of the House speaker, Markey was stripped of his seat on the Judiciary Committee, his desk literally thrown out into the hall. As he then quipped, "The bosses may tell me where to sit, but nobody tells me where to stand."
To transform Massachusetts into the progressive beacon it's often mistaken for, Markey and his fellow progressives will have to break from the tradition of supporting incumbents at all costs, especially when they categorically oppose the most basic tenets of the progressive agenda. Like-minded liberals must support the same challenge to the status quo that Markey mounted in 1976, spending equal time fighting for left-wing legislation in Washington and energizing grassroots movements back home. During his 2020 campaign, Markey flipped the Kennedy script, declaring in his most celebrated ad, "With all due respect, it's time to start asking what your country can do for you." The joke landed, and Markey won a mandate with a 10-point victory. What Massachusetts is doing for its residents, however, remains unclear.
News of the World, Sound of Metal Lead Movie Sound Editors Nominations
"News of the World" and "Sound of Metal" led all films in nominations for the Motion Picture Sound Editors' Golden Reel Awards, the MPSE announced on Monday. The two films each received three nominations in the seven Golden Reel film categories, including in the Feature Effects/Foley category, the MPSE category that most closely corresponded to…
News of the World and Noise of Metal led all movies in nominations for the Movie Noise Editors Golden Reel Awards, the MPSE announced on Monday. The 2 films each received three nominations in the 7 Golden Reel film classifications, consisting of in the Feature Effects/Foley classification, the MPSE category that most carefully corresponded to the Oscars Best Noise Modifying category.
( This year, the Academy has actually merged what were two sound classifications, Finest Sound Editing and Best Sound Mixing, into a single Best Sound classification.)
Other nominees in the effect/foley category were Cherry, Greyhound, The Midnight Sky, Tenet and Wonder Lady84 Movies with two nominations consist of The Trial of the Chicago 7, Ma Rainey s Black Bottom, The Midnight Sky, Tenet, Marvel Lady 84 and Greyhound.
---
Also Read:
Why 'Mank' Noise Designer Reserved an Empty Cinema to Make the Movie 'Sound Old' (Special Video)
---
In the television classifications, Snowpiercer, Better Call Saul, Ozark and The Queen s Gambit led all programs with three elections each, while The Umbrella Academy, Locke & Key, The Mandalorian, Marvel s Agents of S.H.I.E.L.D., The Right Things, Raised by Wolves, Star Trek: Picard and Westworld each got two.
The complete list of the individual candidates in each classification can be discovered at the MPSE site.
The winners will be announced on Sunday, April 16 in a virtual event. Director George Miller will get the MPSE Filmmaker Award at that ceremony.
---
Likewise Read:
Riz Ahmed's 'Noise of Metal': How the Deep Space Silence of 'Gravity' Shaped Hearing Loss Drama
---
The nominees:
Outstanding Accomplishment in Noise Editing Feature Animation
The Croods: A New Age
Onward
Over the Moon
Soul
Wolfwalkers
Impressive Accomplishment in Noise Editing Feature Documentary
Bee Gees: How Can You Heal a Broken Heart
Crip Camp
John Lewis: Good Problem
My Octopus Teacher
The Factor I Jump
Rebuilding Paradise
The Social Issue
Zappa
Outstanding Accomplishment in Sound Editing Foreign Language Feature
Bacurau
The 8 Hundred
I m No Longer Here
Jallikattu
The Life Ahead
Outstanding Achievement in Noise Modifying Function Underscore
The Undetectable Man
The Midnight Sky
News of the World
Sound of Metal
Tenet
The Trial of the Chicago 7
Wonder Lady 84
Impressive Achievement in Noise Modifying Function Musical
Eurovision Tune Contest: The Story of Fire Saga
The High Note
I Am Woman
The Forty-Year-Old Variation
Ma Rainey s Black Bottom
The Senior Prom
Impressive Achievement in Sound Editing Function Discussion/ ADR
Emperor
Greyhound
Ma Rainey s Black Bottom
Mank
News of the World
Nomadland
Sound of Metal
The Trial of the Chicago 7
Impressive Accomplishment in Noise Editing Function Impacts/ Foley
Cherry
Greyhound
The Midnight Sky
News of the World
Sound of Metal
Tenet
Wonder Woman 84
Impressive Accomplishment in Noise Editing Live Action Under 35: 00
Brooklyn 99: Lights Out
Dead To Me: If You Just Knew
Homecoming: Giant
I Might Ruin You: Eyes Eyes
A Parks and Recreation Special
Servant: 2: 00
Area Force: The Introduce
Ted Lasso: The Hope That Kills You
Exceptional Achievement in Noise Editing Episodic Short Form Music
The Alienist: Stubborn Belly of the Beast
Hollywood: Hooray for Hollywood
Selena: The Series
Snowpiercer: Trouble Comes Sideways
The Umbrella Academy: Valhalla
Vikings: The Very Best Laid Plans
Zoey s Amazing Playlist: Pilot
Exceptional Achievement in Noise Editing Episodic Short Form Dialogue/ADR
Babylon Berlin Season 3 Episode 12
The Flight Attendant: Other individuals s Homes
Locke & Secret: Crown of Shadows
The Mandalorian S2: Chapter 13: The Jedi
Marvel s Representatives of S.H.I.E.L.D.: What We re Fighting For
The Right Stuff: Flight
Snowpiercer: Difficulty Comes Sideways
The Umbrella Academy: Completion of Something
Outstanding Achievement in Sound Editing Episodic Short Type Effects/ Foley
The 100: The Last War
Hanna: The Trial
Locke & Secret: Head Games
The Mandalorian: S2: Chapter 13: The Jedi
Marvel s Representatives of S.H.I.E.L.D.: What We re Combating For
The Right Stuff: Flight
Snowpiercer: Difficulty Comes Sideways
Exceptional Accomplishment in Noise Modifying Episodic Long Kind Music/ Musical
Better Call Saul: Magic Male
The Boys: Absolutely nothing Like It in The World
Bridgerton: Shock and Pleasure
Ozark: Kevin Cronin Was Here
The Queen s Gambit: Adjournment
Raised By Wolves: Pilot
Impressive Accomplishment in Noise Editing Episodic Long Kind Dialogue/ADR
Much Better Call Saul: Something Unforgivable
Dark: Life And Death
Fargo: The Pretend War
Ozark: All In
Star Trek: Picard: The Impossible Box
The Crown: Fairy Tale
The Queen s Gambit: End Video Game
Westworld: The Mother of Exiles
Outstanding Achievement in Noise Modifying Episodic Long Kind Results/ Foley
Much Better Call Saul: Bagman
Devs: Episode 3
Ozark: All In
The Queen s Gambit: End Video Game
Raised By Wolves: Episode 1
Star Trek: Discovery: That Hope is You, Part 1
Star Trek: Picard: Et in Arcadia Ego, Part 2
Westworld: The Mother of Exiles
Outstanding Achievement in Noise Modifying Single Discussion
A Christmas Carol
The Comey Guideline: Episode 2
Hamilton
Into the Dark: The Existing Occupant
Self Made: Motivated by the Life of Madam C.J. Walker: The Fight of the Century
Unorthodox: Part 1
Exceptional Accomplishment in Noise Editing Non-Theatrical Animation Long Form
Batman: Death in The Household
The Boss Infant: Back in Company: Get That Infant
DuckTales: Let s Get Dangerous!
The Epic Tales of Captain Underpants: The Xtreme Xploits of the Xplosive Xmas
The Loud House: Schooled
Mortal Kombat Legends: Scorpion s Revenge
To Your Last Death
Impressive Accomplishment in Noise Editing Non-Theatrical Documentary
Be Water
Beastie Boys Story
Bruce Springsteen s Letter to You
High Rating Ep.1 Boom & Bust
Jeffrey Epstein: Rich: The Island
The Last Dance Ep.1
Laurel Canyon: A Place in Time: Episode 1
Outstanding Achievement in Sound Editing Non-Theatrical Feature
Bad Education
Bliss
Blow the Male Down
The Bygone
Christmas On the Square
Security
Troop Zero
The Ultimate Playlist of Sound
Exceptional Achievement in Sound Modifying Computer System Cinematic
Fate 2: Beyond Light
Ghost of Tsushima
The Last of Us Part II
Ori and the Will of the Wisps: Willow Event
Spider-Man: Marvel s Miles Morales
Star Wars Jedi: Fallen Order
Impressive Achievement in Sound Modifying Computer System Interactive Game Play
Ghost of Tsushima
The Last of United States Part II
Spider-Man: Marvel s Miles Morales
Star Wars Jedi: Fallen Order
Outstanding Achievement in Sound Editing Animation Short Kind
Archer: Cold Combination
Baba Yaga
The One In Charge Baby: Back in Organization: Escape From Krinkles
Canvas
Clone Wars: The Phantom Apprentice
Star Trek: Short Trek: Ephraim and Dot
Wizards: Mesmerized
Impressive Accomplishment in Sound Editing Student Film (Verna Fields Award)
Kadalin Kural, Annapurna College of Movie and Media
Lakutshon Ilanga (When the Sun Sets), Dodge College of Film and Media Arts
Las Escondidas, Chapman University
Listen to United States, SCAD
Meow or Never ever!, The National Movie and Television School
O Black Hole!, The National Film and Tv School
Phantom Spectre, USC School of Cinematic Arts
The Unknown, The National Film and Television School
Our favorite electrical standing desk is down to $235 at Amazon
If you purchase an independently reviewed product or service through a link on our website, we may receive an affiliate commission. Electric standing desks can be quite expensive, but they're often worth the price now that so many people are working from home during the pandemic. The good news is that Amazon has a pair…
If you buy a separately examined service or product through a link on.
our site, we may receive an affiliate commission.
Electric standing desks can be rather expensive, however they're often worth the price now that many individuals are working from house throughout the pandemic.
The good news is that Amazon has a set of great deals right now on popular Flexispot Electric Standing Desks, with rates beginning at just $23499
Flexispot's updated EG1 Electric Standing Desk is just $25 more, making it a no-brainer if you want the added benefit of one-touch height modifications.
---
So many offices around the nation are still closed due to the coronavirus pandemic, which implies lots of people are working from home today who are used to operating in an office setting. A fascinating negative effects is that companies are finding out the simple fact that just as much work gets done when people operate remotely as when they're entirely in an office. Now that companies are seeing just how much cash they can conserve, the pattern of working from house is only going to get increasingly more popular.
Regardless of whether you're amongst the people who simply began working from home or you've been at it for years, you must certainly think about getting yourself a standing desk so you're not sitting the entire time. The issue, of course, is that choosing a standing desk can be so much more tough than it appears.
List Cost: $1600(12%)
Offered from Amazon, BGR might get a commission Buy Now Readily Available from Amazon BGR may get a commission
The most inexpensive choices out there are typically tabletop desk risers and manual standing desks, however running them can be a pain. There are standing desks with electric motors that make changes a breeze, but they can cost a lot of money.
That is, unless you get one now throughout Amazon's excellent Flexispot sale.
Flexispot's EG1 Electric Standing Desk is a premier model that's streamlined and trendy. It has a smooth electric motor and the capability to keep three various heights in its memory. If you desire to invest even less money, the Flexispot EC1B Electric Standing Desk in black that was a best-seller this previous Black Friday is now on sale for just $234
You almost certainly won't discover any other electric standing desks this great for anywhere near these costs, so do yourself a favor and participate the action while you still can.
Flexispot Electric Stand Up Desk Workstation with 48 x 30 Inches Whole-Piece Desktop Ergonomic … List Price: $29900(13%)
Readily Available from Amazon, BGR may receive a commission Buy Now

Flexispot Standing Desk 48 x 30 Inches Height Adjustable Desk Electric Sit Stand Desk Home Offi … List Cost: $24900(6%)
Readily Available from Amazon, BGR may get a commission Buy Now
Here's what you require to know from Amazon's item page:
SPACIOUS WORKSPACE: The big work surface area measuring 48″ x 30″ is ecologically sourced and provides sufficient area for a range of screen or laptop setups, plus space for ongoing projects and office supplies.Please allow small 0-1 inch difference due to manual measurement.

ELECTRIC HEIGHT ADJUSTABLE LIFT SYSTEM: The motor lift system offers smoother height adjustments, from 28 ″ to 47.6 ″ (without 1 ″ thickness of tabletop consisted of), at a speed of 1 ″/ second with low noise( under 50 dB) while running.

STRONG BUILDING AND CONSTRUCTION: An industrial-grade steel frame integrated with a solid desktop allows for a 154 pounds. weight capacity to support your ideal work space setup.

LED MEMORY CONTROL PANEL: A 7-button controller with 3 programmable memory presets lets you set 3 wanted desk heights for convenient switching from sitting to standing throughout the day.

PLEASE NOTE: The product will be shipped in 2 separate bundles which may be delivered separately from each other. Some actions may require a drill, which is not included.
Flexispot Electric Stand Desk Workstation with 48 x 30 Inches Whole-Piece Desktop Ergonomic … List Price: $29999 Price: $25999 You Conserve: $4000(13%)
Readily Available from Amazon, BGR might get a commission Buy Now


Flexispot Standing Desk 48 x 30 Inches Height Adjustable Desk Electric Sit Stand Desk House Offi … List Price: $24999 Rate: $23499 You Conserve: $1500(6%)
Available from Amazon, BGR might get a commission Buy Now
---
Follow @BGRDeals on Twitter to stay up to date with the latest and greatest deals we discover around the web. Rates subject to alter without notification and any discount coupons mentioned above may be available in restricted supply.
Feature: Forget Conserving Hyrule, Zelda: Ocarina of Time Is All About Fishing For Me
To celebrate the 35th anniversary of The Legend of Zelda, we're running a series of features looking at a specific aspect — a theme, character, mechanic, location, memory or something else entirely — from each of the mainline Zelda games. Today, Kerry admits that she didn't always stick to the proposed path when playing one…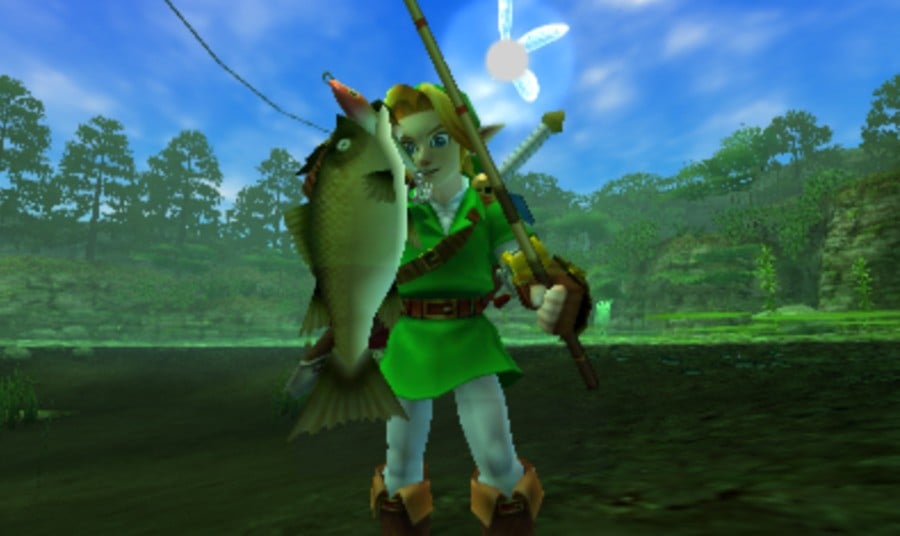 To celebrate the 35 th anniversary of The Legend of Zelda, we're running a series of features looking at a particular aspect– a style, character, mechanic, area, memory or something else entirely– from each of the mainline Zelda video games. Today, Kerry admits that she didn't always adhere to the proposed path when playing one of Link's most famous adventures …
---
Did the Hero of Time triumph against his horrible foe, approving Hyrule a duration of peace and prosperity? Or … did the Hero of Time make a beeline for the fishing pond by Lake Hylia and hope the whole Ganondorf/time travel/world-saving organization was going to arrange itself out while he was preoccupied with pole-caught piscines?
That less-than-heroic third scenario's how Zelda: Ocarina of Time always ends up playing out for me. One little building stuck in the corner of what (at the time of release) seemed like the biggest stretch of water video gaming would ever see somehow slowly transforming from a location where I went to when I desired a quiet break from Link's legendary N64 adventure into the one location I really wanted to be whenever I turned the game on– and, at the height of my fascination, even when I switched on almost any other game too.
" Yeah this is great, but it's not fishing, is it?" I 'd say to myself as I browsed F-Zero X's twists and turns or gracefully cannon 'd myself through the air in Pilotwings 64, indifferent towards the gaming riches that lay prior to me. It took me a long period of time prior to understood why I kept coming back to this "pointless" sideshow in a title bursting at the joints with more productive pursuits: in any kind and on any format, video gaming is constantly requiring more. I have actually got to be faster, tougher, much better, than I was last time. I've got to hunt down much more of whatever semi-hidden shiny thing I already gathered previously. I have actually got to complete the video game. I've got to 100% complete the game. I've got to move on and buy the sequel and do it all over once again.
The fishing pond isn't like that. The fishing pond is a sanctuary of untouchable and unvarying calm, an opportunity to loosen up and to connect with a minimum of one walled-off part of one game completely on my own terms and at my own rate– and all of it starts with a simple wooden door stuck on one wall of a simple square structure.
Unlike Lon Ranch's leap-able fencing to the grassy lands beyond, Kakariko's open-village cucco-bothering, or numerous other picturesque backyard in Hyrule, there is only one way in or out of this secluded fishing pond, simply one NPC to engage with, and just the slightest tip of the world outside glancing through the trees that line the edge of this little location.
It's a place without external diversions, and that implies it's a place that allows you to focus on every stunning information present: the gentle sound of running water from the little stream feeding the pond, the bend of the rod, the lily pads floating aside as you learn them, the lure darting through the water to the movements of the analogue stick, and the sluggish death of time, brilliant blue days merging dusky orange nights to moonlit nights and back again.
It's a location without external diversions, and that implies it's a place that allows you to focus on every beautiful information present
For an area with very little going on (in the traditionally game-y sense, at least) it's a highly tactile environment, a location that will constantly respond to whatever I wish to do but never need an out-and-in-again reset no matter what I attack-roll Link at or how many hours I sprinkle about. Nothing occurs here unless I desire it to, and absolutely nothing can ever wander too close and disrupt this tranquil swimming pool– there actually is nothing to do here aside from attempt and capture some fish.
I do not even need to be any good at it; whether I'm landing every fish that dares to come within 10 ft of the end of my lure or if I'm having an off day so bad I 'd have much better luck diving in and trying to catch them with Link's bare hands. Due to the fact that here, I'm not in a competition versus anyone besides myself. I can enter this location with the burning desire to invest a whole afternoon trying to capture a legendary lunker, or I can be here just to enjoy the screen go wibbly as I stand in the middle of the lake wearing a set of iron boots (blue tunic on, obviously) looking ludicrous as Link sticks his face underwater to try and get an excellent take a look at the fish, the pond owner no doubt questioning what the heck I'm doing and asking himself if 20 rupees for an unlimited fishing session was truly the very best business design he might create.
But how could anyone resist gawping at those fish? They're so happily plump with smooth underbellies and shining scales on top, all wearing an inscrutable expression hovering someplace between euphoric ignorance and utter shock. They'll dart away when I get too close, attempt their finest to disregard me at the inmost part of the pond, and kick (or more precisely, flipping) up the earth as they resist the fishing line.
They do not, officially speaking, have private (or cumulative) personalities– however it's tough not to declare one my own individual bane when a possible prize catch feigns interest until they're practically touching Link's sodden boots … prior to swimming away to the other side of the pond. And after that there's the enigmatic Hylian Loach, the strange elongated silhouette who's certainly always sometimes there, however never rather interested enough in the lure to bite … whatever takes place, all is forgiven when a big wheel lastly is available in, in some cases so huge even adult Link fights with their size, that reward catch of the day entering the tank on the counter as proof of my own little triumph; a customised keepsake of an enjoyable time that'll still exist next time I return.
There are so very many great factors to keep returning to Ocarina of Time; the innovative dungeons, seeing Hyrule fleshed out in full-3D for the first time, the innovative usage of time travel, Epona, playing your own melodies on the ocarina, therefore much more– but for me nothing beats this tiny location that, in the grand scheme of things, goes no place and not does anything. I might not know how many fish I've captured or how big the most significant one of them was, but I do know whenever I open that wood door and pay my 20 rupees I'm precisely where I want to be.