Countess Vaughn's "Do You Love Him?" Video Brings the LOLs on Twitter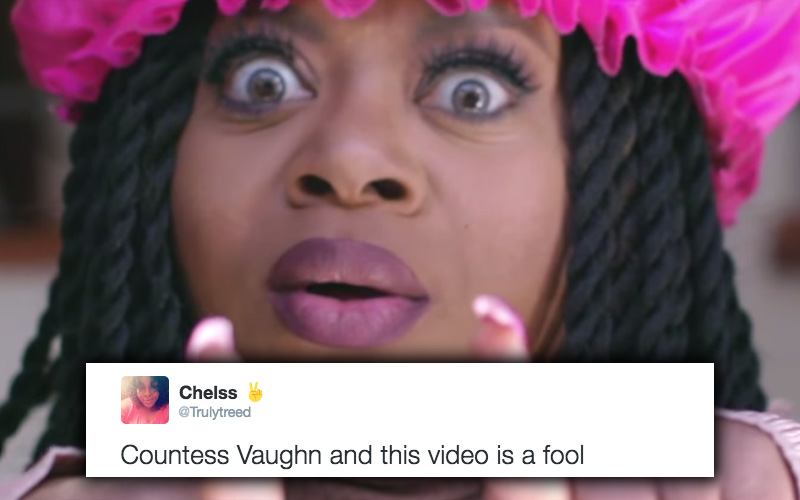 Countess Vaughn ended up a trending topic on Twitter today for all the wrong reasons.
The actress turned reality star is no stranger to the spotlight, having been on the scene since the 1980's and starring in hit sitcoms such as "227," "Moesha" and "The Parkers." In recent years, she's re-emerged via the TV One reality series Hollywood Divas and her expressive personality makes her a staple on social media.
Despite being diagnosed with a thyroid condition that makes her voice hoarse, Countess has decided to embark on a career in music, and this season on Hollywood Divas, she shot a music video for a song she recorded called "Do You Love Him?"
Vaughn finally released the video today, and Twitter can't stop talking about it.
Based on Countess' awkward dancing, her signature funny faces, and the "campy" nature of the storyline, some folks are questioning if the video was meant to be a joke, while others are simply asking why it was even created in the first place. Then there are those who seem to genuinely enjoy the overall gift that is Countess Vaughn.
A few highlights from the Twitterverse:
Me looking at Countess Vaughn 's video like who signed off on this? #DoYouLoveHim pic.twitter.com/sOkGXQkrDG

— ShakariSBriggs (@ShakariSBriggs) August 18, 2016
All of Black Twitter right now after watching that Countess Vaughn video LMAO ? ? ? pic.twitter.com/gDYJyOeB3X

— Blerd & AnimeOtaku (@AnimeOtaku1723) August 18, 2016
Countess Vaughn and Tisha Campbell gotta remake the "Beautiful Liar" song and video. For the culture.

— Radicalized Ursula the Sea Witch Stan (@vinabean) August 18, 2016
Countess Vaughn recorded these vocals in a payphone booth. Because there's just no way they were done in a studio.

— Fellatio Alger (@atomiclust) August 18, 2016
i can tell from that video that countess vaughn doesn't have any good friends.

— fooler initiative (@metroadlib) August 18, 2016
Who let Countess Vaughn do that? Her friends don't love her.

— Rich Steele (@RichSteeleMusic) August 18, 2016
https://twitter.com/MADBLACKTHOT/status/766166813205856257
i have never seen or heard anything like this…….
in my entire life: https://t.co/43ruIRhdxf

— fooler initiative (@metroadlib) August 18, 2016
Countess Vaughn is the gift that keeps on giving.

— Globethotter ? (@BrianMcLight) August 18, 2016
Countess made a music video that managed to successfully describe Black folks who wear colored contacts. Impressive!

— Michael Arceneaux (@youngsinick) August 18, 2016
If that Countess video was satire, it would be brilliant & deserving of a Peabody or something. But she was serious so we gotta pray. Amen!

— Michael Arceneaux (@youngsinick) August 18, 2016
I wish Countess had made a video for that "Shake Your Booty All Night" song she sang on "The Parkers."

— Michael Arceneaux (@youngsinick) August 18, 2016
Countess Vaughn & Freestyle Unity need to put out a greatest hits album and go on a reunion tour.

— Charisse ?? (@Scandalous49) August 18, 2016
Countess Vaughn and this video is a fool pic.twitter.com/K33Isq1ihE

— Pimp Cee ? (@Trulytreed) August 18, 2016
Sad part is, the chorus to Countess Vaughn's song is stuck in my head. Over here singing "dooo you loooove hiiiim" at my desk.

— sigma perp. ?? (@jaicelemar) August 18, 2016
Man.This Countess Vaughn video has to be the worst prank of 2016 ???

— Ruh-keh-ti (@RKHTY) August 18, 2016
Countess Vaughn's "Do You Love Him?" Video Brings the LOLs on Twitter is a post from: Gossip On This – Pop Culture, News & Videos
Country Music Symbol Kenny Rogers Dead at 81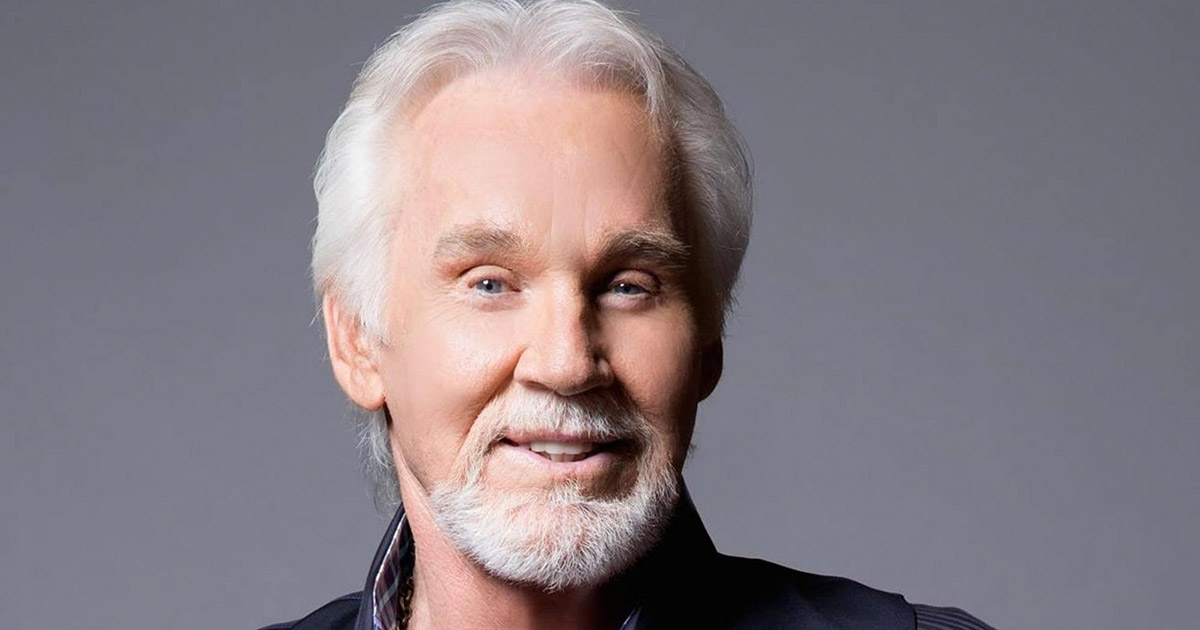 Fabulous c and w vocalist Kenny Rogers has passed away. He was 81 years of ages.
According to a statement from Rogers' family Friday (Mar. 20), he died the evening of Thursday, March 19 th in his Sandy Springs, Georgia residence "from all-natural reasons under the treatment of hospice and also bordered by his household."
Rogers' family members noted in their statement that they were planning to hold a tiny funeral for close relative as a result of the COVID-19 aka coronavirus pandemic.
The family added that they "anticipate commemorating Kenny's life openly with his close friends and also fans at a later day."
The Rogers family is depressing to reveal that Kenny Rogers died last evening at 10: 25 PM at the age of81 Rogers passed away quietly at home from natural reasons under the treatment of hospice and surrounded by his family. https://t.co/adxAgiMW2s pic.twitter.com/nggWiiotMT

— Kenny Rogers (@_KennyRogers) March 21, 2020
Birthed in Houston on August 21 st, 1938 in Houston, Texas, Kenny Rogers took place to turn into one of one of the most effective country music musicians of his generation, with a job spanning over 6 years.
Rogers had more than 60 Top 40 hits, like "The Bettor," "Woman," and also "Island in the Stream." Of those hits, 24 of them went to No. 1. He's likewise a three-time Grammy Honor champion as well as likewise won the CMA Willie Nelson Lifetime Achievement Honor in 2013.
Not only was Rogers the very successful c and w musicians of perpetuity, however he also discovered success in film, starring as Brewster Baker in the 1982 motion picture 6 pack.
Rogers likewise showed up on the tv for many years, with visitor starring functions on TELEVISION shows like Dr. Quinn Medicine Lady, Touched by an Angel, Exactly How I Met Your Mommy, and TV films, consisting of The Casino player, which inspired 4 sequels: Coward of the County, and Xmas in America.
In 2015, he starred in the hit Geico commercial inspired by his Grammy-winning track "The Bettor."
In 2018, health problems required Rogers to have to terminate a number of shows throughout what was being called his farewell performance excursion. In May 2019, he was confessed to a Georgia hospital for dehydration in the middle of rumors that he was in failing health and wellness.
" Kenny Rogers has actually been working through a series of health and wellness obstacles and has been recommended to terminate all efficiencies via completion of the year to focus on recuperation," read a declaration from the singer's monitoring at the time.
" I didn't wish to take permanently to retire," Rogers was when quoted as stating. "I've thoroughly appreciated this possibility to say goodbye to the fans over the course of the past two years on 'The Gambler's Last Bargain' scenic tour."
Kenny is endured by his partner, Wanda Miller Rogers, as well as his five youngsters– one from his very first marriage, one more from his third marriage, a third from his 4th marriage, as well as the doubles he shared with Wanda.
C And W Symbol Kenny Rogers Dead at 81 is a message from: Chatter On This – Popular Culture, Information & & Videos
K. Michelle Disses Camila Cabello on Twitter Over Her Racist Past: "Discover a D ** k to Draw, Racist Rat!"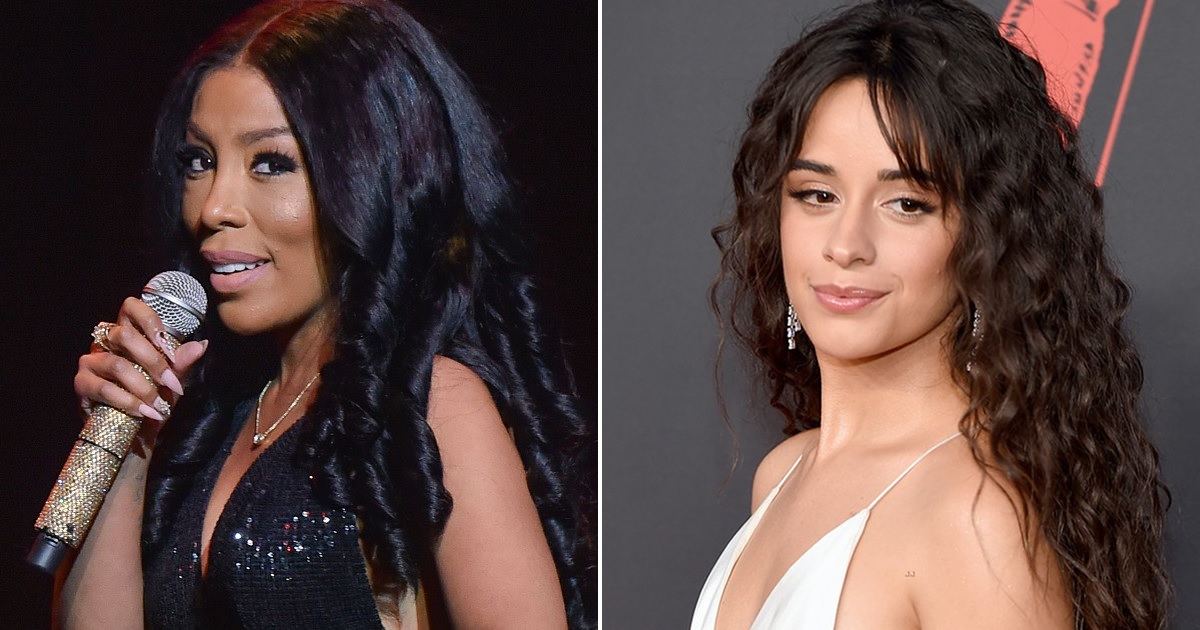 Welp! K. Michelle is absolutely not a Camila Cabello follower as well as she desires everyone to know it.
While most of the country is celebrating #ImpeachmentDay this Wednesday (Dec. 18), K. Michelle casually went down a tweet to shut Cabello completely up.
K. examined the pop singer for her racist past as well as informed her to have numerous seats.
Camila Canello needs to find a prick to draw. Racist Rat

— K. Michelle (@kmichelle) December 18, 2019
K. additionally provided zero effs when it was offered her interest that she misspelled Cabello's last name.
Whatever her name is

— K. Michelle (@kmichelle) December 18, 2019
The vocalist's easy to understand attack on Cabello comes just hrs after Cabello– whose launching solo album simply dropped– launched a lengthy apology regarding her racist social media past.
" I am sorry from all-time low of my heart," she composed in a message she shared on both Twitter and Instagram.
Cabello composed in part:
" When I was younger, I utilized language that I'm deeply ashamed of and also will regret forever. I was ignorant and also oblivious and also as soon as I familiarized the history and also the weight and also truth meaning behind this awful as well as upsetting language, I was deeply embarrassed i ever used it.

" I asked forgiveness after that and also I apologize currently. I would certainly never ever deliberately harmed any person and I regret it from all-time low of my heart."
I'm sorry from the bottom of my heart. pic.twitter.com/iZrnUawUAb

— camila (@Camila_Cabello) December 18, 2019
The apology remains in feedback to her racist social networks past returning to haunt her.
Before she was popular, Cabello utilized the n-word in multiple blog posts on the social networks platform Tumblr.
She likewise shared countless memes and GIFs including the racial slur, racial stereotypes like black individuals with fried chicken and also watermelon, and various other racist or racially insensitive material.
These messages resurfaced simply someday prior to Cabello's apology as well as K. Michelle's tweet on Dec. 17 using Twitter account @motivatefenty.
exposing camila cabello's racist and also downright disturbing tumblr reblogs: a string

–?

Camila actually claimed the n word on her tumblr pic.twitter.com/95 lUFxAQzs

–?

She reblogged this very racist gif that stereotypes an African-American youngster pic.twitter.com/ t33 aEJ3GT1

fan account (@motivatefenty) December 17, 2019

As a Normani stan, K. Michelle likewise most likely knows the bigotry that Normani ran into throughout her Fifth Harmony days with Cabello, particularly due to Cabello's followers.

In 2016, after Normani made a remark about Cabello, which some Cabello fans perceived to be unethical, Normani was pestered with racist remarks calling her the N-word and "Normonkey," in addition to photoshopped images of apes over her face.

She was forced to quit social networks at the time as a result of the continuous harassment.

Normani– that is getting ready for the release of her own solo album debut– reflected on the racist event as well as the support of Cabello and also her bandmates in a cover story interview with The Fader earlier this month.

"[The girls] provided assistance, however I'm uncertain they could be there in the manner in which I required due to the fact that it's not their experience. They do not have to deal with on a day-to-day basis things that I need to. I absolutely found out afterwards that I had to walk a different method. I can't resemble everybody else."

Nonetheless, Normani verifies that there's currently "no bad blood" between her and Cabello, noting that they see each other at major award show occasions and also constantly speak.

Though Normani and also Camila Cabello get on "good terms," we at the very least know one point: K. Michelle has Normani's back!

K. Michelle Disses Camila Cabello on Twitter Over Her Racist Past: "Discover a D k to Suck, Racist Rat!" is a message from: Chatter On This – Pop Culture, Information & & Videos
Chaka Khan Roasted on Twitter Over Her National Anthem Performance at the 2020 NBA All-Star Game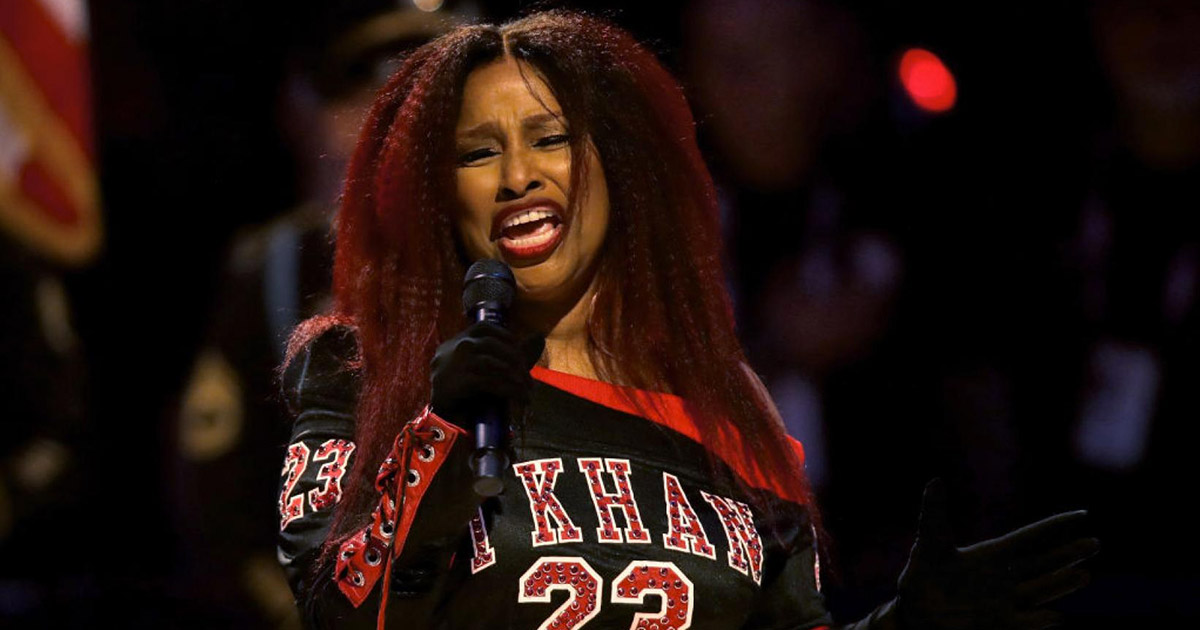 Let's just go on ahead and get this out of the way. Chaka Khan is a legend. That fact cannot be disputed. However, in the age of social media, even legends are impervious to the scrutiny that comes from Twitter.
And let's just say … Chaka Khan's rendition of the national anthem, which she performed at the 2020 NBA All-Star Game in Chicago Sunday night (Feb. 16), sparked hella Twitter reactions, but not in a good way.
Anyone who takes on the task of singing the national anthem of the United States at a live, internationally televised event already has a huge weight on their shoulders, and while most American singers make the song "their own," many felt as though Chaka Khan was doing way too much.
In fact, most would say that Chaka Khan's version of the "Star-Spangled Banner" rivaled Fergie's back in 2018 … and that's far from a compliment.
Watch her performance here:
And see the hilarious Twitter reactions below:
Why Chaka Khan just reminded me of this ?? #AllStarWeekend #AllStarNBA pic.twitter.com/AlNgd33f4n

— breezy96 (@269_Breezy) February 17, 2020
Man who the hell let Chaka Khan sing this National Anthem lmao #NBAAllStar2020 ??? pic.twitter.com/FfN2gz1GwE

— kingtisemedia (@kingtisemedia) February 17, 2020
Me looking at, "Chaka Khan killed that anthem" tweets on the timeline. #NBAAllStar2020

— Emmanuel Acho (@thEMANacho) February 17, 2020
This Chaka Khan national anthem….pic.twitter.com/SVsEfdJEOd

— Cryptic (@CrypticNoOne) February 17, 2020
Chaka Khan vs. Fergie who you got?#NBAAllStar2020 pic.twitter.com/5P2IosZEvy

— Fan Account ? (@SportsFanimal1) February 17, 2020
Fergie and Chaka Khan's national anthems: pic.twitter.com/zs7YqMrUmV

— ?????¹? (@NinjaScottSZN) February 17, 2020
Chaka Khan doing her best Fergie impression… #NBAAllStar pic.twitter.com/EjzXXaB2b6

— 929ESPN (@929espn) February 17, 2020
Me listening to Chaka Khan sing that anthem ?#NBAAllStar2020 pic.twitter.com/T6of41iPTj

— Devin Booker Stan Account ? (@IconicGoleiro) February 17, 2020
Chaka Khan singing like ya drunk aunty at Christmas. ? #NBAAllStar

— Myles (@myles_morris) February 17, 2020
Chaka Khan said the land of the pic.twitter.com/rkOFhLKATL

— ahhhhhh (dats me yellin) (@NekiasNBA) February 17, 2020
Me right now after Chaka Khan absolutely butchered that national anthem, holy shit that Fergie 2.0 level bad pic.twitter.com/fEn5seUxG9

— Dennis Celery (@YapiYapo99) February 17, 2020
Welcome to the worst thing you'll hear in your entire life…

Fergie vs. Chaka Khan: A National Anthem Mashup #NBAAllStar #NBAAllStar2020 pic.twitter.com/Er1N0mNR4m

— Josh Beard (@JoshBeardRadio) February 17, 2020
Jimmy Butler and Kyle Lowry listening to Chaka Khan sing the National Anthem got me hollering ??#NBAAllStarGame #NBAAllStar pic.twitter.com/vGu9bPBVQh

— Siobhain (@summer0001) February 17, 2020
Chaka Khan is an icon. No slander will be tolerated. Not this Black History Month ?

— Astasia Williams (@AstasiaWill) February 17, 2020
I refuse to tolerate any Chaka Khan slander

— michaelharriot (@michaelharriot) February 17, 2020
I ain't gon say nah bad word about Chaka Khan, but they definitely in the control room like, "who's idea was this.." #NBAAllStarGame pic.twitter.com/zDXdIMEee3

— Marcus Cromartie (@Cromartie_M) February 17, 2020
"Give a round of applause for Chaka Khan" pic.twitter.com/OkH0hVDqaJ

— Zak (@NoseFaceKiller) February 17, 2020
Fergie and Chaka Khan fighting over who had the worst National Anthem performance of all time. pic.twitter.com/wQv2oDjLtQ

— BROM (@JustBrom) February 17, 2020
Fergie *butchers national anthemcreating endless memes for the internet.

Chaka Khan: hOooooLlLLLlldddDDDD…..mmYYYYYY BeeeeeeRrrrr #NBAAllStar2020 pic.twitter.com/80PSy8mxfK

— Nishant Varughese (@NishKokoFish) February 17, 2020
I adore Chaka Khan. She is a living legend, but I DID NOT like that rendition of the Star Spangled Banner AT ALL. Lord help her. #NBAAllStar pic.twitter.com/UVwfMDA1d7

— TripleR ???? (@TerpGrad01) February 17, 2020
Chaka Khan a legend and all but…. that rendition of the anthem was something #NBAAllStar2020 pic.twitter.com/zMIZYmPeQt

— SHYHEIM (@imnotshy_) February 17, 2020
Chaka Khan know she wrong for that ?

— Trevor Norris (@trevor_norris0) February 17, 2020
Chaka Khan Roasted on Twitter Over Her National Anthem Performance at the 2020 NBA All-Star Game is a post from: Gossip On This – Pop Culture, News & Videos