Da Brat "Surprised" Her Sister LisaRaye for Her Birthday After Not Speaking for Months, And Lisa Went All the Way OFF!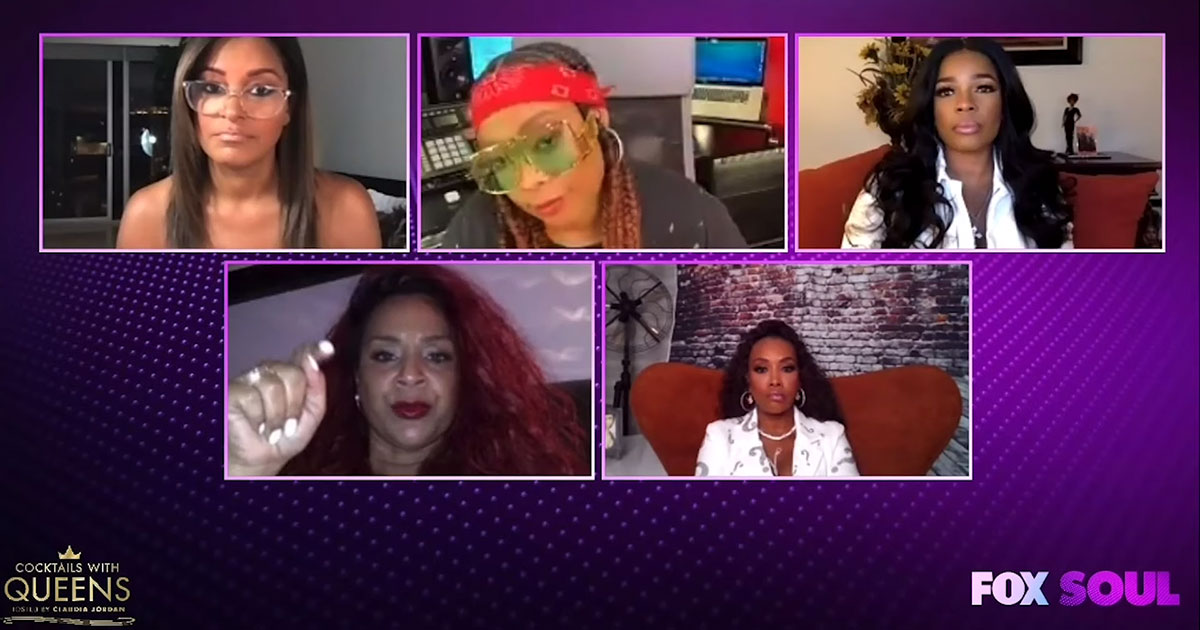 It was a family reunion for DaBrat and LisaRaye McCoy on Monday night's (Sep. 28) episode of Cocktails With Queens on Fox Soul … but things didn't go as well as one might expect.
Da Brat hasn't spoken to her big sister in months. So she, for whatever reason, thought it would be a good idea to surprise Lisa for her 53rd birthday and wish her a Happy Birthday live on camera.
The only problem is that Lisa was clearly NOT here for it, and let it be known that she still feels some type of way about finding out about Brat's coming out and her relationship with her girlfriend Jesseca Dupart through the blogs instead of from her own mouth.
After a brief introduction from Claudia Jordan, Da Brat popped up on the screen talking about "Hi!" and singing the Black "Happy Birthday" song … and you could clearly see the "shock" on LisaRaye's face.
At first, everyone thought the waterworks coming from LisaRaye were tears of joy, but eventually, everyone realized that she was actually pissed.
Asked if she surprised by her sister's reaction, Da Brat said:
"No, I'm not surprised, we kind of been a little distant or whatever, so I know she's really surprised because we've had a little space in our relationship or whatever.

"From nothing bad, but I was just going through a bunch of stuff, and, you know, I didn't want to worry anybody, and I have a whole new significant other situation, and I was kind of scared to talk to her about it. So I haven't seen or talked to her in a long time."
Brat went on to explain that she and LisaRaye haven't talked since before the COVID-19 pandemic—which officially hit the U.S. in March, so that's at least six months ago.
For what it's worth, no one—other than Lisa and Brat, of course—knew that they had been on the outs recently, so this whole thing was a shock for everyone.
While Lisa let it be known that she was happy for her little sister and her new relationship and finally living in her truth, she also let it be known that she was pissed about being blindsided, and, at one point, even went off on her co-hosts after they tried to get her to calm down.
"I don't give a fk what y'all saying! At all! Y'all don't know sh*t! At all!" Lisa shouted at Vivica A. Fox, Syleena Johnson and Claudia Jordan, which created a brief moment of awkward silence for everyone.
Feeling defeated, Da Brat thanked everyone for giving her the opportunity to surprise her sister, and gracefully bowed her way out of the chat.
After a quick commercial break, the ladies returned to the camera and LisaRaye explained why she reacted the way she did.
Long story short … LisaRaye felt she was left out of a big moment in her sister's life, and when people would ask her about what was going on in interviews, she had no idea how to answer their questions because they hadn't spoken in a while.
Lisa went on to say that she's open to a private, off-camera conversation with Brat when the time is right.
"That's my sister!" Lisa said. "She ain't going nowhere, I ain't going nowhere. I just gotta wait until she feels comfortable to tell me about … her life."
Watch below:
Da Brat "Surprised" Her Sister LisaRaye for Her Birthday After Not Speaking for Months, And Lisa Went All the Way OFF! is a post from: Gossip On This – Pop Culture, News & Videos
Quando Rondo Associate's Auto Gets Shot Up in Chicago in Feasible Revenge for King Von's Murder (VIDEO)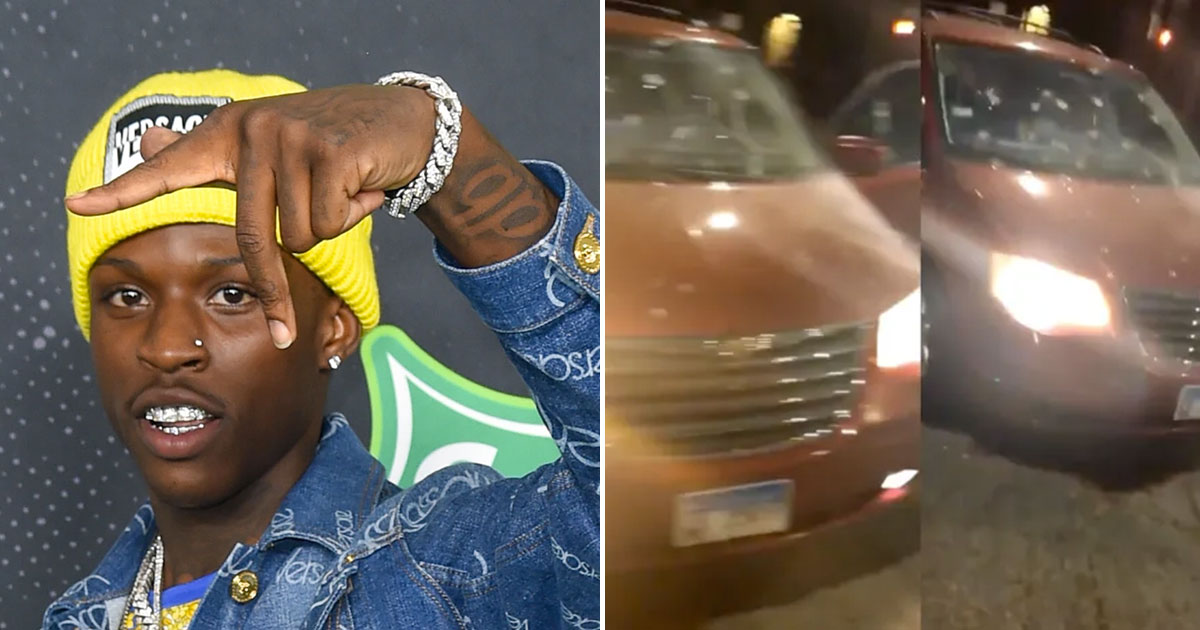 The beef in between affiliates of Georgia rapper Quando Rondo as well as killed Chicago rapper King Von remains to heat up and is worsening as the days pass.
MTO Information is reporting that a vehicle believed to belong to a music producer connected with Quando Rondo was shot up Tuesday night (Dec. 8) in Chicago.
The automobile was apparently ambushed and also splashed with automated shooting, with greater than two loads bullets striking the automobile.
The Good News Is, every one of the people inside taken care of to escape, nonetheless, it wasn't clear if any person was wounded in the shooting.
Video video footage posted on the internet programs an empty red Chrysler van with what seems Chicago permit plates filled with bullet openings.
" On bro, ain't nobody in this motherf emergency room," the person videotaping the video states off-camera. "They obtained outta there … They fortunate but they most likely got shot!"
King Von was an increasing rapper from Chicago who was authorized to Lil Durk's record label OTF (Only the Household) and also had a circulation take care of Realm.
Von was shot as well as eliminated last month by a close partner of Quando Rondo adhering to a fierce run-in at a hookah lounge in Atlanta. He was 26 years old.
22- year-old Timothy Leeks (who some telephone call Quando Rondos' "brother") was arrested the day after the fatal shooting and billed with felony murder
Leeks (who also goes by the rap name Lul Timm) was also wounded in the capturing and also was treated at the medical facility prior to being required to prison.
King Von as well as Quando Rondo's staffs have been at war given that Von's murder, with Quando Rondo bearing the force of the beef, as he has actually had to cancel a number of programs because the fatal event in the middle of reports that Von's affiliates have actually been purchasing tickets to his shows after allegedly putting a bounty on the rap artist's head.
In a current interview, King Von's uncle, Range Vagabond Hang, asserted that OTF and also O-Block will proceed applying pressure to Quando Rondo as well as his people.
" Nah, I imply he can slide with the cracks, however it's ugly for him," Array Wanderer Hang told Fucious TV when asked if the rapper will certainly ever be able to perform once again. "Ni as got points to show. That was a real one. They killed a real one as well as we ain't never ever going to obtain no one else like that."
For his component, Quando Rondo has actually preserved that he and also Leeks were acting out of protection when Von was fired as well as eliminated. Leeks schedules in court for a bond hearing on December 15 th.
Quando Rondo Associate's Cars and truck Gets Shot Up in Chicago in Possible Revenge for King Von's Murder (VIDEO CLIP) is a blog post from: Chatter On This – Popular Culture, News & & Videos
ENJOY: Black Man Smacks the Life Out of White Individual With Twisted Tea Can for Repetitively Saying N-Word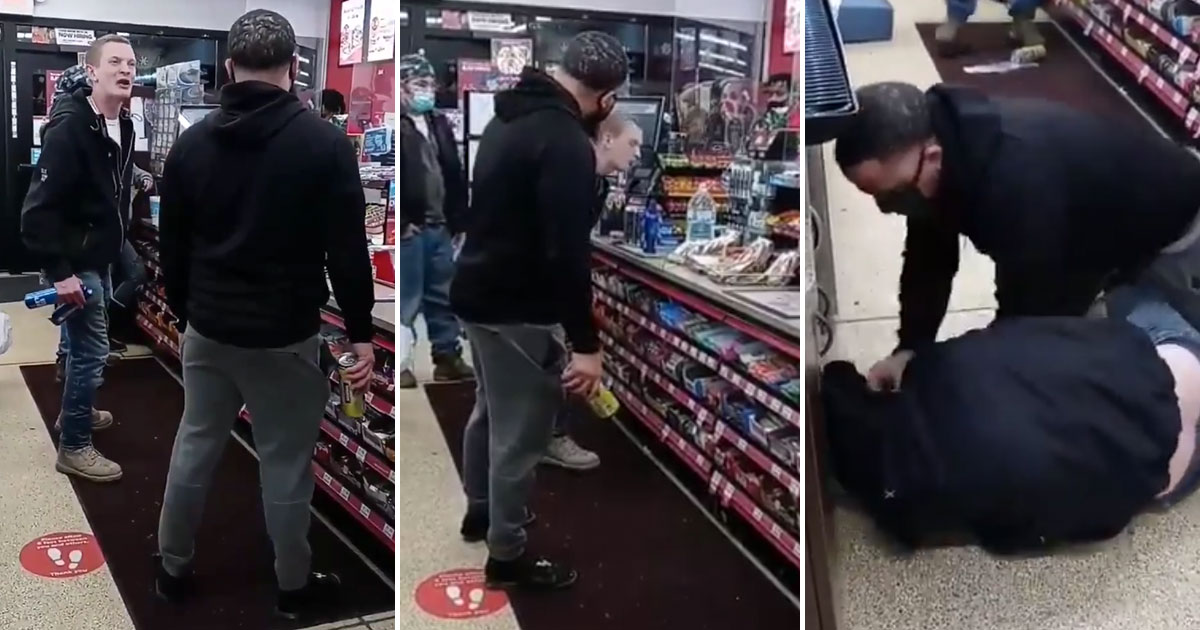 A video has gone viral revealing the moment a Black man used a canister of Twisted Tea to slap the life out of a white guy who assumed it was ALRIGHT for him to say the n-word over and also over once more.
The event unravelled inside a corner store in Ohio recently, Daily Dot records
Obviously, the unidentified white man– who appeared to be EXCEPTIONALLY intoxicated– had claimed the n-word before the video clip began rolling and was being faced by the Black man that seemed in the procedure of purchasing a number of things, including a canister of Twisted Tea– an alcohol.
" I' ma say n an all day, on a daily basis. Are you joke me ?! … You a clown n a! On God, nigga, you a clown, n a!" the intoxicated white man claimed to the Black man, that after that continued to order a Twisted Tea and considered over whether or not to utilize it.
" What? You gon na smack me with that said?" the intoxicated (and also apparently foolish too) white guy asked. "Slap me with it. Smack me! Smack me, n a!"
After the Black male erroneously dropped the Twisted Tea can on the ground while trying to flip it over in his hand, the white guy attempted to kick it as well as missed out on, striking the item screen below the sales register, which after that triggered a physical confrontation that started with the can making contact with the side of the white guy's face and also finished with the white guy on the ground being punched in the head continuously by the Black man.
JeeeeeeZUS LMAOOOOOOOOOOOO pic.twitter.com/2P76 jlT0sf

— Terence (@terencessb) December 24, 2020
I guess you can say the Black guy literally opened a container of whoop-ass on the white person, amirite?
After the video footage went viral, Twitter did what it does best and also memed the hell out of the situation, making "Twisted Tea" end up being a globally trending topic in the process.
Dave Matthews Band- Twisted Tea Marching pic.twitter.com/66 YYIdjJKT

— spreezy F infant and also the F is for "fuck?" (@FPSpr33 zy) December 28, 2020
What is even taking place right now with this Twisted Tea lmao? pic.twitter.com/UmawgmyqVP

— Chad (From the Republic of Chad) (@from_republic) December 28, 2020
Slap That ft. DJ Twisted Tea pic.twitter.com/1I26 howada

— Kyle Hurley (@kylehurley24) December 26, 2020
This is my preferred so far, and also I generally dislike Phil Collins!
. #Repost using IG @stevebeck_wwizard
??? #meme #philcollins #intheairtonight #twistedtea #smackintheface #fight #gasstation #edit #merrychristmas pic.twitter.com/m3M3RTXw2n

— Jason G (@JGinCobbleHill) December 26, 2020
You recognize I maintain that muhfuckin Twisted Tea with the extendo on me. pic.twitter.com/6SE0qZzJIa

— juice wayne (@visecs) December 28, 2020
Twisted tea memes are my new favored pic.twitter.com/s9RJGQcssf

— Andrew (@ItsJustEdge) December 27, 2020
This is by far my preferred Twisted Tea meme thus far? pic.twitter.com/wXlA8GmiLz

— The Dude (@Christraint) December 28, 2020
When the cop ask me if I have any weapons in my automobile #TwistedTea pic.twitter.com/BjEzh04 yuu

— Dangpapicito (@JonyBeats) December 27, 2020
Nah that twisted tea hits in a different way no cap pic.twitter.com/tIVabQRtzV

— Norm Cousy (@n_cousy) December 28, 2020
I can be your Sea Spray
Or
I can be your Twisted Tea pic.twitter.com/UJHUeRAxHz

— JoseJorge (@ElJorge_96) December 28, 2020
me in the rear of the feature recognizing I got a twisted tea on me pic.twitter.com/vjM45 Odo43

— I Rob Trump Advocates (@girthalomew) December 28, 2020
Me leaving the function when I see a person come in with a twisted tea unprovoked pic.twitter.com/lxJgjoEbpq

— jacksavage (@Jacksavagebox) December 28, 2020
The Twisted Tea tho … which one of you niggas did this??????? pic.twitter.com/XsK5MamTuB

— Blacktastic (@CuteQ100) December 28, 2020
pls enjoy my contribution to the twisted tea memes pic.twitter.com/O8wYkg3lBg

–???? (@kailovesjjong) December 28, 2020
When your close friend brings twisted tea to the event #TwistedTea pic.twitter.com/YKWAE4tL7b

— Champain (@Ps5_4_Luv) December 28, 2020
These twisted tea memes are funny LMAOO pic.twitter.com/WFqzQkddzg

— Mazin Ansari (@whupjr) December 29, 2020
BRB mosting likely to be laughing at Twisted Tea memes for the rest of the evening. pic.twitter.com/ X505 Tfqha8

— Brian Petro??????????? (@SmartGuyInATie) December 29, 2020
VIEW: Black Man Slaps the Life Out of White Individual With Twisted Tea Can for Continuously Stating N-Word is a blog post from: Chatter On This – Pop Culture, Information & & Videos
Gospel Singer Darrel Walls of The Walls Group Goes Viral After Video Shows Him Kissing a Man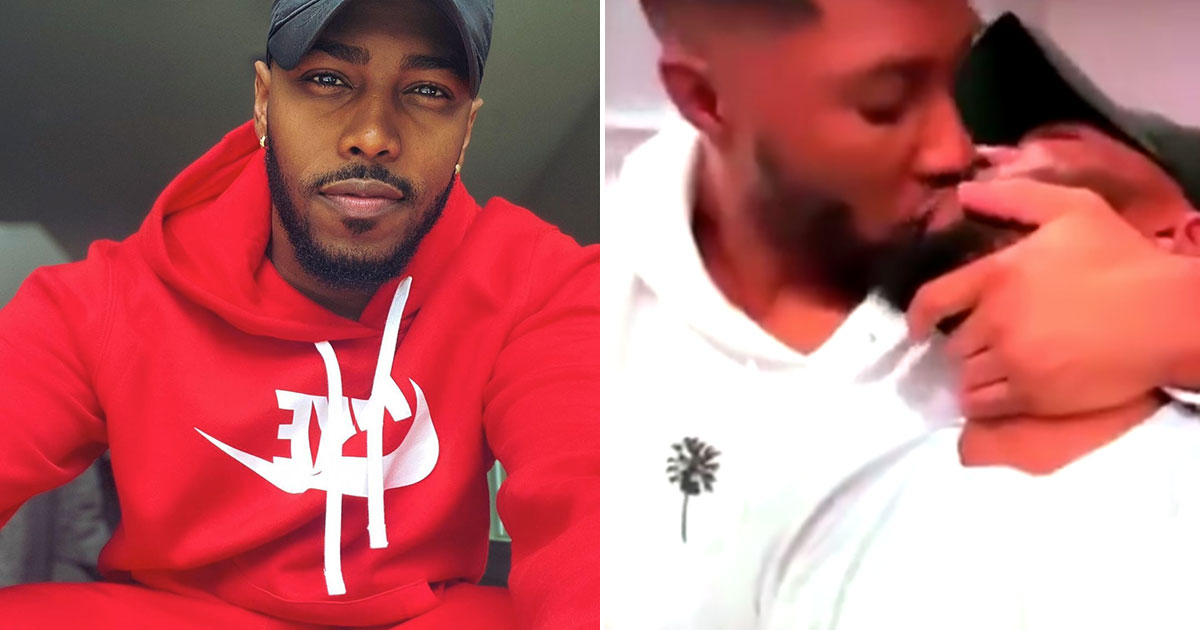 Gospel singer Darrel Walls of The Walls Group became a trending topic on social media over the weekend after a video leaked online showing him kissing another man, essentially outing him as a member of the LGBTQ community.
The video, which was leaked late Saturday night (Nov. 28), showed Walls with another man smiling and talking. The two men eventually turn to each other and share a kiss. The other man in the video hasn't been identified.
According to Love B. Scott, who first broke the story, Darrel shared the video himself to his "close friends" list on Instagram, however, someone in that group made the video public, and now it's everywhere.
Walls temporarily deleted his Instagram page after the video leaked, however, he has since restored the account, and it is active as of Tuesday (Dec. 1).
Walls also took to Twitter Sunday morning (Nov. 29) and wrote: "You Are Good, Oh Lord… You Are Good."
You Are Good, Oh Lord… You Are Good.

— Darrel Walls (@MusiqCityWalls) November 29, 2020
As news of the video began to spread, Walls was met with support and positivity on social media.
Love to Darrel Walls. One of the greatest singers alive ? pic.twitter.com/5CWaMnCuAy

— Tarig. (@1Tarig) November 29, 2020
I support you Darrel Walls ? We deserve to love who we want to love. You are gifted & anointed and deserve happiness. The black church is toxic and delusional and they will try to discredit and drag you but the gay community loves and supports you ???????????????#lovewins #DarrelWalls pic.twitter.com/yPJPM4ydkB

— V I B E C R E A T O R ?????? (@Mysong_Mystory) November 29, 2020
As far as I'm concerned, Darrel Walls' music is his ministry. The man can sing & I hope that video surfacing of him & his alleged boyfriend doesn't derail him or The Walls Group.

Darrel is so incredibly talented. I mean listen to his cover of "Better Days" by LeAndria Johnson: pic.twitter.com/1Er5bI6Fo6

— ShakariSBriggs (@ShakariSBriggs) November 29, 2020
Ain't no one more concern about gay people than people who "aren't even gay" #DarrelWalls We got you bro! Keep doing what you were meant to do! We support you! @MusiqCityWalls pic.twitter.com/WgP6AjjjDu

— Shy Socialite,MPH,CPH (@6SmoothJazz8) November 29, 2020
WHEN YOU KEEP THE WRONG F'N COMPANY IN YOUR CIRCLE! SECONDLY, LOVE IS LOVE! #DARRELWALLS #THEWALLSGROUP pic.twitter.com/44Fy41IHuU

— Carew Sr. ??? (@M1kyrew) November 28, 2020
Very sad and frustrating how messy the church can be. I see why some shy away from it. People commit suicide over being "outed." We have to stop being so obsessed with one's sexuality, and learn to operate in love, not gossip; souls are depending on it. Praying for Darrel Walls??

— Alexis Jeanna (@AlexisJeanna) November 29, 2020
The Walls Group is an urban contemporary gospel group signed to RCA Records. The group consists of four siblings: two sisters, Rhea Walls and Ahjah Walls, and two brothers, Darrel Walls and Alic "Paco" Walls.
Back in 2012, the quartet broke through on the Billboard charts with their self-titled album. They released their debut studio album Fast Forward two years later in 2014, and the project charted on the Billboard 200.
The Walls Group received a nomination for Best Gospel Performance/Song at the 57th Annual Grammy Awards for their song "Love on the Radio."
According to his LinkedIn page, aside from being a singer, Darrel Walls, who is 29, is also a producer and songwriter based in Missouri City, Texas.
In addition to his musical talents, Darrel refers to himself on IG as a motivational speaker as well as a "Lover of Growth" and an "Advocate for Peace."
According to his bio on The Walls Group's official website, Darrel is the oldest member of the group, and he began playing drums at age four before learning to play the organ and keyboard.
Darrel's bio adds: "It is his passion for God that causes him to be an exceptional individual, songwriter and arranger. He aspires to someday be a great producer."
Gospel Singer Darrel Walls of The Walls Group Goes Viral After Video Shows Him Kissing a Man is a post from: Gossip On This – Pop Culture, News & Videos