Sydney Barber Makes History As First Black Woman to Serve As U.S. Naval Academy Brigade Commander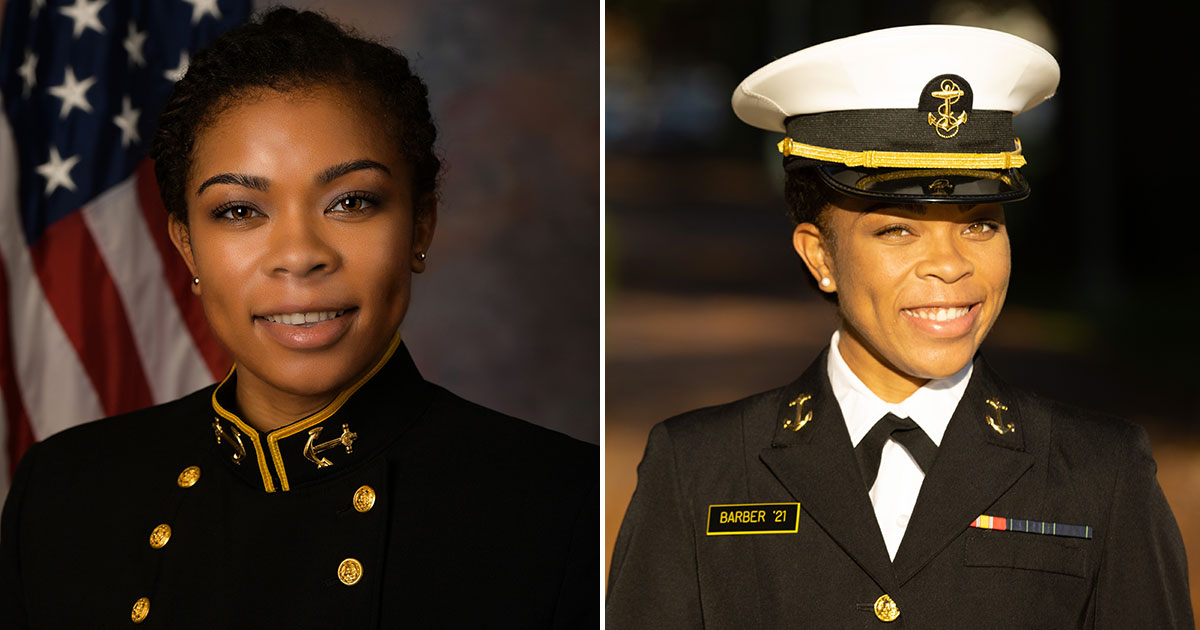 After a historic weekend that saw the first Black woman becoming elected vice president of the United States comes news that a Black woman named Sydney Barber will serve as U.S. Naval Academy Brigade Commander for the first time ever.
Via USA Today:
Midshipman 1st Class Sydney Barber will be the first Black woman to serve as brigade commander at the U.S. Naval Academy, officials announced Monday.

Barber will hold the highest leadership position within the brigade for the spring semester, the 16th woman to hold the position since women were allowed to attend the Naval Academy beginning in 1976. The first female brigade commander was then-Midshipman 1st Class Juliane Gallina in 1992.

"Earning the title of brigade commander speaks volumes, but the title itself is not nearly as significant as the opportunity it brings to lead a team in doing something I believe will be truly special," Barber said in a statement. "I am humbled to play a small role in this momentous season of American history."

Barber, of Lake Forest, Illinois, is studying mechanical engineering and hopes to become a Marine Corps ground officer, officials said. She created a STEM mentorship program for young girls of color and organized a networking breakfast to connect current Black midshipmen with alumni.

In a video, Barber said women like Janie Mines, the first Black woman to graduate from the Naval Academy, motivate her to "follow her footsteps and be her wildest dream."

Mines congratulated Barber on social media, saying: "You are my wildest dream."

"This bought me to tears," Mines said on LinkedIn. "40 years later. Thank you Sydney! Love you!"

The bridge commander is selected by senior leadership and the commandant's staff. Midshipman 1st Class Ryan Chapman currently holds the semester-long position.

"She is a catalyst for action, a visionary, a listener, a doer and a person driven by compassion, by faith, by a fierce sense of passion and heart full of love," Chapman said in a statement. "Sydney is the perfect person to lead the brigade."

Barber has also interned with the Department of Energy's Lawrence Livermore National Laboratory.

She was named a 2020 Truman Scholar national finalist for her research on developing legislative strategies to address education disparities in communities of color.

"Sydney stands out amongst her peers, for not only her exemplary record, but for her clear vision of how she intends to make the world a better place and her accompanying bias for action," Lt. Cmdr. Darby Yeager said in a statement.

Barber is not the only Black woman to make history this year in military promotions. Lt. j.g. Madeline Swegle in July became the U.S. Navy's first Black female tactical fighter pilot.

The news of Swegle's achievement came the same day a female soldier graduated from the Army's elite Special Forces course, becoming the first woman to join a Green Beret team. The Army does not release the identities of its service members "due to unique missions assigned upon graduation."
Black women making history in positions of power … We LOVE to see it!
Sydney Barber Makes History As First Black Woman to Serve As U.S. Naval Academy Brigade Commander is a post from: Gossip On This – Pop Culture, News & Videos
Suspect Who Fired 2 Louisville Cops Throughout Breonna Taylor Protests Identified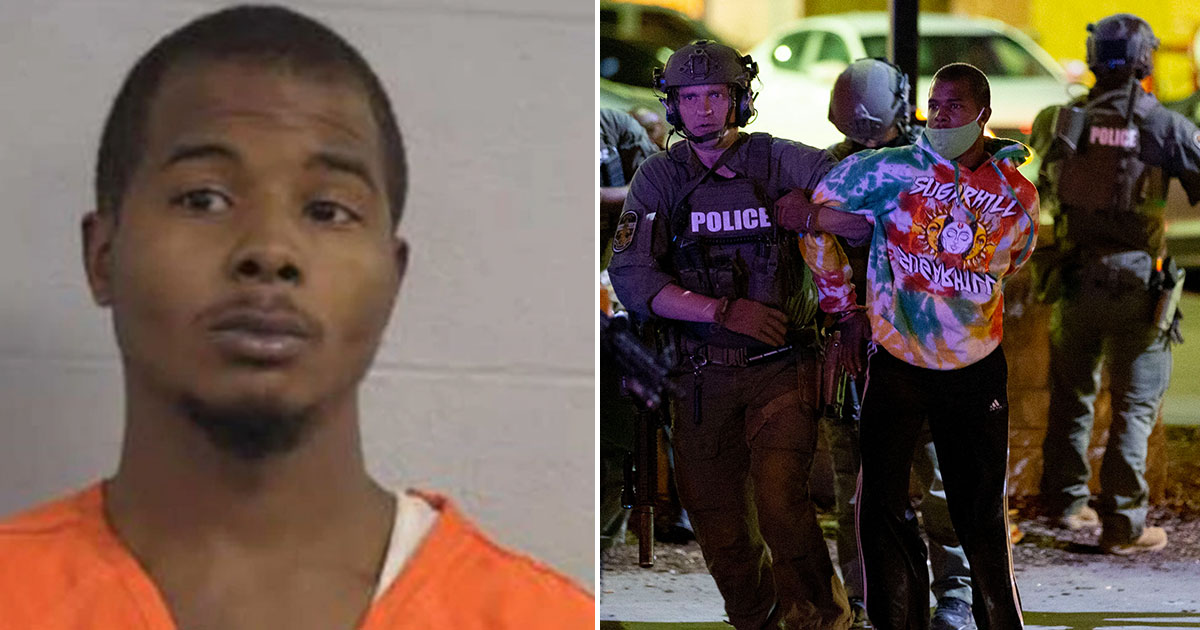 Officials with the Louisville City Authorities Division have determined the man captive that they claim shot and wounded 2 law enforcement officers Wednesday night (Sep. 23) amid objections in the city.
The Louisville Courier-Journal records:
Larynzo Johnson, 26, was jailed at 8: 40 p.m., according to his citation, which specified he would deal with multiple charges of first-degree assault of a law enforcement officer as well as first-degree wanton endangerment.

LMPD acting Principal Ronert Schroeder stated Thursday that the suspect will be billed with two matters of assault and 14 matters of wanton endangerment, "all routed against law enforcement officer."

Johnson is charged of shooting 2 LMPD officers around 8: 30 p.m. Wednesday evening, as protests continued across the city in the consequences of the statement that simply one of the three officers that fired their tools the night Breonna Taylor was eliminated would deal with costs.

Johnson's arrest citation, given by the workplace of the Jefferson Region Circuit Notary, stated the suspect's actions "revealed a severe indifference to the value of human life" as well as put policemans at the scene in danger of death or serious injury.

The citation claimed LMPD officers were responding to a large group at Broadway and Brook Street in midtown Louisville that had actually established fires and would certainly not spread after being cautioned.

Johnson was amongst the group and "deliberately utilized a hand gun to fire multiple bullets at policemans. Two officers with LMPD were struck by the bullets causing significant physical injury."

Witnesses recognized him as firing the gun and afterwards running from the scene, the citation states, as well as he was in belongings of a pistol when he was detained.

Video footage examined by LMPD officers, according to the citation, showed him shooting the weapon, and also a National Integrated Ballistic Info Network inspector was considering an organization between the gun recuperated and shell cases recovered from the scene.

" There is a high possibility that a tiny comparison, by a weapons examiner, will certainly verify the association between the gun's ballistic proof," the citation from the arresting police officer states.

Johnson's record shows no previous apprehensions for fierce criminal activities or felony convictions. His address on the apprehension citation noted no residence address yet "CAL," indicating city at large.

One Facebook Live video clip taken at the time of the shooting by a person in the group shows up to reveal a male in a multicolored hooded sweatshirt shooting a handgun at a team of officers. A guy was taken into custody putting on a t shirt that appeared to match that description.

The two police officers hurt in Wednesday night's capturing were determined Thursday early morning as Maj. Aubrey Gregory and also Robinson Desroches, a policeman with LMPD's Second Division that has been with the division because March 2019.

Gregory was hit in the hip and was launched from the health center overnight, LMPD acting Principal Robert Schroeder claimed, while Desroches undertook surgical treatment after being struck in the abdominal area. He is also anticipated to make a full recuperation, Schroeder said.

" Last night's situation can have been a lot even worse for our police officers and also for individuals that were objecting when the shooting sounded out," Schroeder said. "… We are incredibly privileged these 2 police officers will recover."

The night before, Schroeder explained the tense scenario as "really severe" as he consulted with reporters in a press briefing that was broken up after simply mins.

" I am very worried concerning the safety of our officers," Schroeder stated. "Obviously we have actually had actually two policemans shot tonite, which is extremely serious. … I think the security of our policemans as well as the neighborhood we serve is of miraculous significance."
And to assume … all of this might have been prevented had they jailed the cops that killed Breonna Taylor.
Suspect Who Fired 2 Louisville Cops During Breonna Taylor Protests Identified is a post from: Gossip On This – Popular Culture, Information & & Videos
Louisville Protesters Incantation "Burn It Down!" After Police Officers Who Killed Breonna Taylor Aren't Charged for Her Murder (VIDEOS)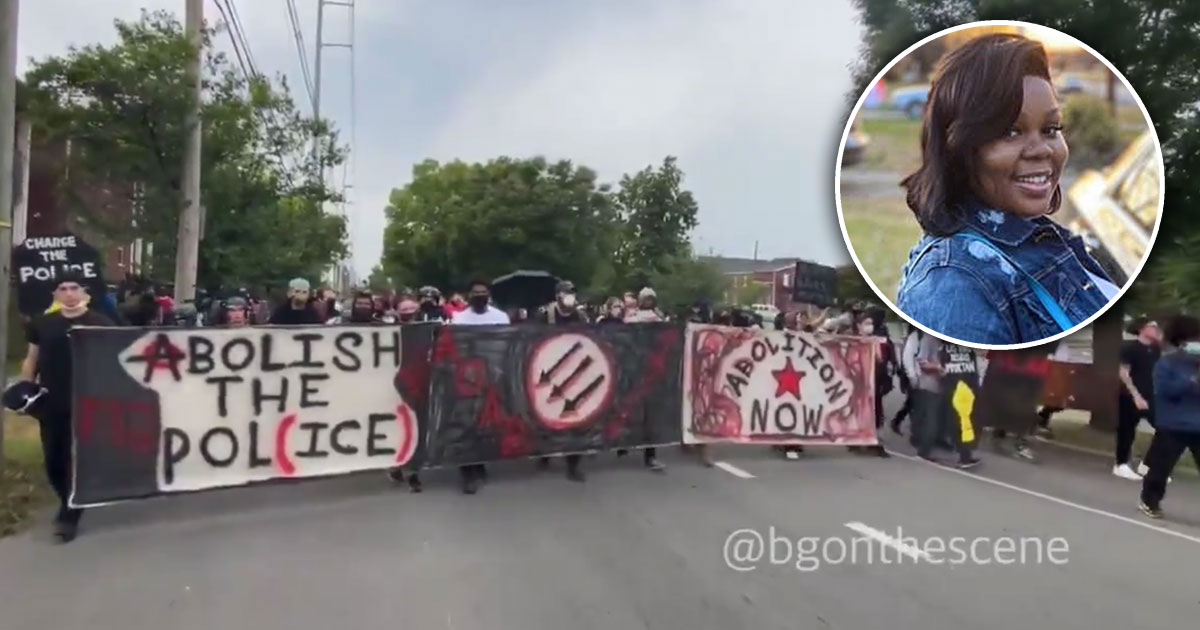 Protesters have required to the streets of Louisville after the Jefferson Region grand jury announced their decision to bill simply ONE police officer, Brett Hankison, with three counts of first-degree wanton endangermen t … except killing Breonna Taylor, but for bullets that entered bordering apartments.
Reaction to the Grand Court statement in Louisville. #Louisville #BreonnaTaylor pic.twitter.com/fwh4dnAvER

— Brendan Gutenschwager (@BGOnTheScene) September 23, 2020
A guy just nearly pulled his gun in response. Group needed to quit him. Louisville is on side pic.twitter.com/R0WxTQQ8EO

— Brendan Gutenschwager (@BGOnTheScene) September 23, 2020
The protesters are on the step #Louisville #BreonnaTaylor pic.twitter.com/K7ZQcAZmWj

— Brendan Gutenschwager (@BGOnTheScene) September 23, 2020
A couple of just recently emerged video clips reveal a group of militants discharging trouble shields, indicators and other supplies create a Uhaul truck, while other videos show a large team of protesters marching down the road shouting "shed it down!" and "f k those racist a authorities!"
An additional video clip shows militants advising motorists to not even effort to go down any midtown roads. "Ain't nobody going anywhere today," one can be heard claiming.
Web traffic being shuttered downtown, "Ain't nobody going anywhere today." #BreonnaTaylor #Louisville pic.twitter.com/mF0NPI7Ji8

— Brendan Gutenschwager (@BGOnTheScene) September 23, 2020
Dumping the riot guards from the Uhaul #Louisville #BreonnaTaylor pic.twitter.com/F9KqzRB5lM

— Brendan Gutenschwager (@BGOnTheScene) September 23, 2020
Even More of the Uhaul trouble guard transportation. Might be extra effective than the Black Lives Matter Snack Van, greater capability & & less windows at risk of being wrecked #Louisville #BlackLivesMatter pic.twitter.com/3RX8PNDy1b

— Brendan Gutenschwager (@BGOnTheScene) September 23, 2020
" We really did not obtain it, burn it down!" The crowd remains to grow out here in Louisville this mid-day #Louisville #BreonnaTaylor pic.twitter.com/m4nHrbPvJC

— Brendan Gutenschwager (@BGOnTheScene) September 23, 2020
Phone call to shut the highway down as the crowd continues to set in motion #Louisville #BreonnaTaylor pic.twitter.com/ R71 aqiMp8u

— Brendan Gutenschwager (@BGOnTheScene) September 23, 2020
Hundreds are currently marching through Louisville. Many are extremely disturbed with the choice as well as absence of manslaughter or murder costs #BreonnaTaylor #Louisville pic.twitter.com/tgcu8tmI1q

— Brendan Gutenschwager (@BGOnTheScene) September 23, 2020
Protesters have actually organized a full cutting edge now as they move through the streets #Louisville #BreonnaTaylor pic.twitter.com/WHmiwVM2DU

— Brendan Gutenschwager (@BGOnTheScene) September 23, 2020
" No one is to go across before the Black ladies" Protesters have actually organized the cutting edge by race and gender, with a line of Black females, followed by a line of Black males, followed by everybody else #Louisville #BLM #BlackLivesMatter pic.twitter.com/rdWsxBFWFm

— Brendan Gutenschwager (@BGOnTheScene) September 23, 2020
" Protect Black women" incantations #Louisville #BreonnaTaylor pic.twitter.com/cvLsUCBgl2

— Brendan Gutenschwager (@BGOnTheScene) September 23, 2020
Shutting down an additional crossway here in Louisville #Louisville #BreonnaTaylor #LouisvilleProtest pic.twitter.com/SXRGFbG2nw

— Brendan Gutenschwager (@BGOnTheScene) September 23, 2020
Enormous crowd on the step now through the neighborhoods of eastern Louisville #Louisville #BreonnaTaylor pic.twitter.com/sKUV0WBOf2

— Brendan Gutenschwager (@BGOnTheScene) September 23, 2020
Louisville was preemptively positioned on lockdown as well as a state of emergency situation was declared in advance of Wednesday's statement, as authorities anticipated prevalent unrest in the city comparable to the demonstrations that have actually emerged across the country considering that May following Taylor's fatality as well as the cops killing of George Floyd.
Louisville Protesters Chant "Melt It Down!" After Polices That Eliminated Breonna Taylor Aren't Billed for Her Murder (VIDEOS) is a post from: Gossip On This – Popular Culture, News & & Videos
Chicago Mama Stabbed 5-Year-Old Child to Death in Front of 8-Year-Old Child Who Tried to Stop Her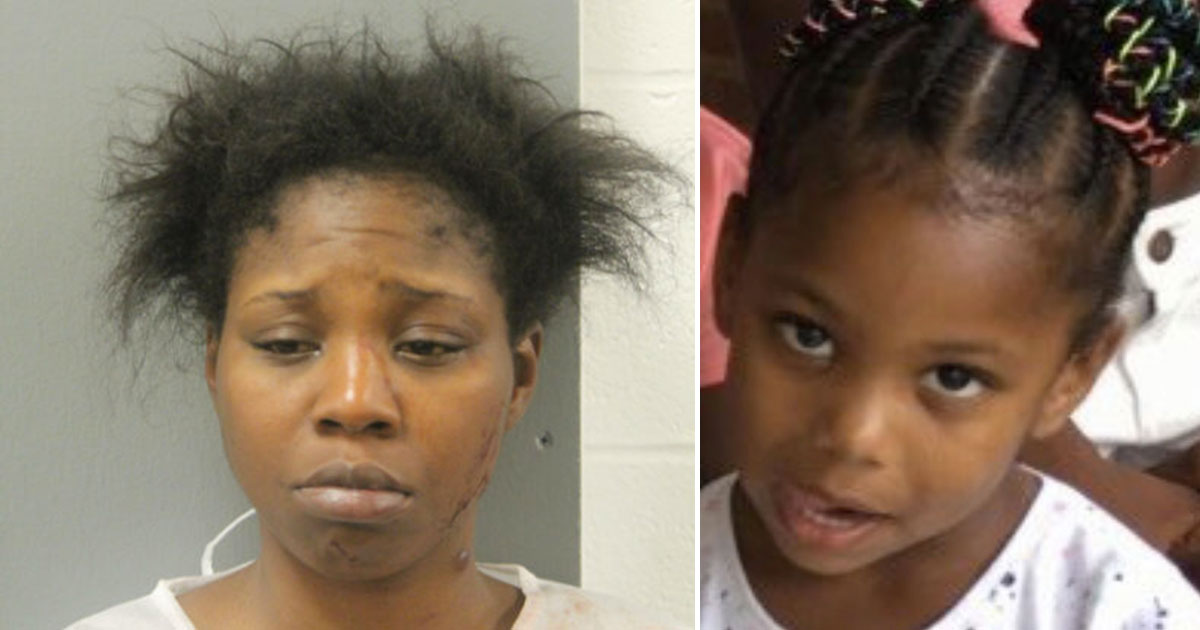 A Chicago woman was billed with murder after she stabbed her 5-year-old child to death as her 8-year-old daughter seen and also pulled on her hair in a desperate attempt to try and quit her.
District Attorneys claimed27- year-old Simone Austin was at house Saturday morning (Sep. 26) with her two little girls when she asked the 8-year-old to leave the space.
She after that took out a serrated blade from underneath a cushion as well as repeatedly stabbed her younger daughter, Peacefulness Arrington, in the neck as her sis watched from the keyhole in the door.
The 8-year-old woman encountered the area to attempt and also conserve her sibling, pulling her mother's hair as well as attempting to draw her off of the woman, as the 5-year-old apologized and also pled her mom to quit.
The older lady then lacked the East Garfield Park home where she, her sister, as well as Austin had been living with Austin's dad as well as began shouting that her mother had actually eliminated her more youthful sis, prosecutors stated.
The ladies' grandfather had left the residence to get hold of coffee with friends as well as returned after the stabbing to discover his 8-year-old granddaughter yelling for help, informing him that "mommy stabbed her little sibling."
Prosecutors stated Austin after that lugged Peacefulness's limp, bloodied, nude body exterior and laid her down in the grassy area next to the walkway in simple sight of next-door neighbors.
One neighbor, that is also a pal of the grandfather, said he was riding his bike down the street when he saw Tranquility on the ground as well as her mom stooping by her feet.
He claimed Serenity was hemorrhaging profusely from a gouge in her throat and also Austin had blood all over her face and also t-shirt.
When paramedics got here, Austin supposedly informed them that she "did it" and "was sorry."
Tranquility was hurried to the medical facility, where she was obvious dead.
The Clinical Inspector identified the woman's cause of death to be "numerous incise injuries to the neck and also one to the shoulder."
According to the ME's records, one of the woman's stab injuries was so deep that it was practically fully with to the rear of her neck.
Austin was charged with first-degree murder and is being held without bond.
Prosecutors were unable to give a feasible intention for the brutal slaying during Austin's bond hearing Monday (Sep. 28), however Austin's 8-year-old little girl did mention a previous incident in which her mother paced about with a knife in her hand after she and also her sister splashed rally the porch.
" And you never ever know what can occur," one prosecutor informed a court, remembering the 8-year-old's declaration to private investigators.
The Illinois Division of Children and also Household Services stated they 'd been called to the home in the past, but information weren't quickly offered.
" We have actually had previous calls there for domestic physical violence, where the mommy was the sufferer of domestic physical violence, and other individuals in the family have called," claimed Chicago Cops Superintendent David Brown.
Brown said the policemans with his division will "forever be haunted" by what they saw Saturday.
" The murder of a child through their parent is too much to contemplate," he informed WGN9 "We pray and also regret for this priceless youngster."
Chicago Police Chief of Detectives Brendan Deenihan added in a different declaration to CBS Chicago: "Keep that youngster in your thoughts and prayers, because this will certainly be with her for the remainder of her life."
Austin– that left her job at Walmart back in May– had no criminal history, yet detectives claimed they were checking into whether she has a background of mental disorder.
Austin's defense attorney said Monday throughout her bond hearing that she was forced to quit of high school after her freshman year since she was homeless at the time, the Chicago Sun-Times reported
Austin is due back in court on October 19 th.
Chicago Mommy Stabbed 5-Year-Old Little Girl to Death in Front of 8-Year-Old Child That Attempted to Stop Her is a message from: Gossip On This – Popular Culture, Information & & Videos